07. SANTA CLAUS AND HIS OLD LADY [6:30]
Ode single #66021 (12/71)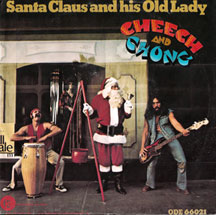 08. SISTER MARY ELEPHANT - Teacher asks what you did on your summer vacation.[3:36]
Also issued as Ode single #66041 (11/73) [titled as "Sister Mary Elephant (Shudd-Up!)"]
09. RALPH AND HERBIE - Dogs talk about poo and fiffie.[3:23]
10. THE CONTINUING ADVENTURES OF PEDRO DE PACAS AND MAN - Car problems.[6:33]
11. LET'S MAKE A DOPE DEAL - Bob, what is your name? [3:53]
[Tracks 8-11 From the album Big Bambu, Ode #77014 (6/72)]
12. SARGENT STADANKO - Narcotics officer speaks to a Catholic school class. This stuff can give you brain damage. Student rats out pusher for reward. [6:31]
13. THE STRAWBERRY REVIVAL FESTIVAL - Two guys bicker. That's my Black Sabbath album. That's my bologna. [3:24]
14. EVELYN WOODHEAD SPEED READING COURSE - Commercial for this class. [0:36]
15. WHITE WORLD OF SPORTS - Interview with Tyrone Shoelaces of the Bloods. [3:02]
16. BASKETBALL JONES - Featuring Tyrone Shoelaces - All-star band included George Harrison, Carole King, Billy Preston and Tom Scott, with Darlene Love and Michelle Phillips (The Mamas & The Papas) as cheerleaders. [4:04]
Also issued as Ode single #66038 (8/73)
17. PEDRO AND MAN AT THE DRIVE-INN - What's the hassle man? Friends get stuck in trunk after being smuggled into drive-in. Man breaks key in the lock. Pedro pees on the car and tells them it's raining. Film is Buggery On the High Seas. [12:44]
[Tracks 12-17 From the album Los Cochinos, Ode #77019 (8/73)]
DISC 2
01. EARACHE MY EYE - Featuring Alice Bowie. I don't wanna go to school. You scratched my record. [5:17]
Also issued as Ode single #66102 (7/74)
02. CHAMPIONSHIP WRESTLING - Cheech talks girl into having sex. [6:48]
03. WAKE UP AMERICA - Reporter, Hernando Revolver, does piece on the music industry.[5:05]
04. BLACK LASSIE (A GREAT AMERICAN DOG) - Featuring Johnny Stash. [3:50]
Also issued as Ode single #66104 (10/74)
05. WAKE UP AMERICA (CONCLUSION) - Hernando wraps up piece. [1:08]
[Tracks 1-5 From the album Cheech & Chong's Wedding Album, Ode #77025 (9/74)]
06. (HOW I SPENT MY SUMMER VACATION) OR A DAY AT THE BEACH WITH PEDRO & MAN—PART I [4:28]
Ode single #66115 (9/75)
07. THE BIG SNIFF - Starring Ralph & Herbie. Ralph and Herbie try to escape from the pound. [4:56]
08. PEDRO'S REQUEST - Pedro calls radio station to make a request. Then, Pedro gets busted for unknowingly selling Man's drugs to a cop. [3:46]
Also issued as Ode single #66124 (5/76)
09. FRAMED - Song about getting framed for drugs. Song is also in the movie, Up In Smoke. [2:40]
Also issued as Ode single #66124 (5/76)
[Tracks 7-9 From the album Sleeping Beauty, Ode #77040 (5/76)]
10. UP IN SMOKE [3:12]
Also issued as Warner Bros. single #8666 (8/78)
[From the album Up In Smoke, Warner Bros. #3249 (11/78)]
11. BLOAT ON - Featuring The Bloaters. Overweight R & B band perform. [4:56]
Also issued as Ode single #50471 (10/77)
12. LET'S MAKE A NEW DOPE DEAL - Contestant Bob Bitchin returns to the game show after five years in prison and winds up chopping his finger off. [5:32]
13. ACUPUNCTURE - Pedro goes to an Asian acupuncturist for a free session. The acupuncturist puts needles up his ass, but forces Pedro to pay to have the needles removed. [5:01]
14. MOE MONEY (Including "Rudolph The Red Nosed Reindeer") - Producer gets annoyed by agent, Sal Cushman. Sal is promoting the punk band named the Rumptones. The Rumptones perform Rudolph The Red Nose Reindeer. [5:17]
[Tracks 11-14 From the album Let's Make A New Dope Deal, Warner Bros. #3391 (3/80)]
15. I'M NOT HOME RIGHT NOW [6:22]
16. BORN IN EAST L.A. [4:51]
Also issued as MCA single #52655 (9/85); Pop #48
{Tracks 15-16 From the album Get Out Of My Room, MCA #5640 (8/85)
17. UP IN SMOKE COMMERCIAL (I) – Featuring Horrendo Revolver [1:00]
previously unissued
18. UP IN SMOKE COMMERCIAL (II) – Featuring Saydis Saydat [1:00]
previously unissued
19. ACADEMY OF MUSIC-NY CONCERT COMMERCIAL – Featuring Tyrone Shoelaces [1:00]
previously unissued
20. OLD MAN IN THE PARK (Live) [7:45]
previously unissued
Recorded live at SANTA MONICA CIVIC AUDITORIUM, Santa Monica, CA (2/7/72)
-- Review --
Funny, very funny! Not only do you get a CD containing their greatest bits, but you also receive some awesome unreleased material. The two Up in Smoke radio commercials, found in Rhino Records'™ vaults, haven't been heard since the 70s. These commercials are hysterical, featuring Arab, Saydis Saydat, as well as Horrendo Revolver.
The last track, Old Man in the Park, is a live sketch from a concert at the Santa Monica Civic Auditorium. It's about a punk harassing an old man. The old man, Chong, fakes a heart attack to get back at him. You have to hear it. This sketch can be seen on their out-of-print "Perform" video.
Besides the great sketches, the 2 CD set includes a booklet laced with photos and the most comprehensive Cheech & Chong bio we've ever read (written by the legendary Dr Demento).
-Weedmaster